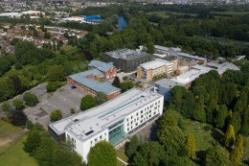 The Institute of Legal Secretaries and PAs is delighted to announce its partnership with Cardiff Metropolitan University. The University has developed a new degree programme in Business Law and Management, which has been successfully accredited by ILSPA. The University's aim is to bring awareness to the alternative roles which can be secured in the legal profession, such as Paralegal, Legal Secretary and Licensed Conveyancer, rather than the traditional roles of a Solicitor or Barrister. Cardiff School of Management at Cardiff Met has a great mantra - 'Get Competent, Get Qualified, Get Hired', which mirrors ILSPA's ethos.
Upon completion of the programme, graduates will have the opportunity to study a tailored version of our Legal Secretaries Diploma course and receive exemptions from the subjects they have already studied. This will enable them to can gain specific practical skills which are required to work in the legal profession. Many law graduates study ILSPA's Diploma course for this reason, however, this is the first time ILSPA has formed a partnership with a University in this respect.
ILSPA is proud to be involved with the Business Law and Management programme. Chief Executive, Emma Stacey, expressed "The programme offered by Cardiff Metropolitan University provides a very comprehensive syllabus, including key areas of law as well as solid business skills. Once qualified, graduates will be welcomed by ILSPA to embark on the next stage of their journey. Not only will they be able to acquire the practical skills necessary to work in law, but we can also help them secure employment and provide ongoing career support."
Dr Richard Lang is Senior Lecturer in Law at Cardiff Metropolitan University and helped to develop the new degree programme, which is set to start this year. Richard said: "We are delighted to be partnering with the Institute of Legal Secretaries and PAs on this exciting new course as it will bring a wealth of opportunities to our students throughout their legal careers. Our aim is to create an open, supportive, and intellectually stimulating environment which enables students to investigate the interrelation of law and business and this accreditation will be of huge benefit to those studying this career-focused course."
ILSPA wishes the degree students much luck with their studies, and we look forward to helping them with their careers after graduation.