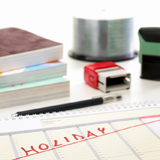 A recent decision by the House of Lords to overturn an earlier Court of Appeal ruling on holiday accrual during sick leave has left the business world and employment law solicitors wincing. On appeal, Keith Ainsworth won his case for the entitlement to holiday pay while he was on sick leave from his employment with HM Revenue and Customs.
Since this ruling was made by the Law lords on 10 June 2009 many people have voiced very strong opinions over the possible consequences. The primary concern would appear to be that the potential financial implications involved here could be the final nail in the coffin for some already struggling employers.
Effectively, the ruling permits the employee to continue being entitled to holiday pay whilst he or she is on long-term sickness. Previously, the opposite was the case and the Court of Appeal originally upheld this widely accepted view. However, not only can an employee now accumulate holiday pay entitlement whilst sick, but he or she can also choose to roll over that entitlement towards the next year's allocation or opt to take the relevant payment in lieu.
In their judgment, the Law lords made it emphatically clear that the statutory minimum holiday entitlement was set for a reason and that fundamentally this was 'for the psychological and social well-being of the employee'. It would appear that they felt the holiday entitlement should still be available to people who were unfortunate enough to be suffering a long-term illness.
This is probably the crucial aspect here – after all, employees cannot help falling ill and it is already expensive enough for them to do so. Statutory sick pay provides only meagre compensation if the employee is not entitled to sick pay through his or her employer, as is so often the case, with more and more employers opting to withdraw the entitlement.
Some of the biggest concerns arise from the scope for an employee to look to back-date accruals and payments of holiday leave for periods where they were previously advised that these were not available. Employment law Solicitors are saying that this could have devastating effects on some businesses, particularly at a time when most companies are already struggling to keep their heads above water financially. They have warned that this ruling could lead to yet more redundancies during the current economic recession.
Timing wise - no one can deny that this change in the law could not have been any worse placed, but perhaps the most crucial thing to remember here is the fact that people cannot help falling ill. Sick employees will already lose a lot of money through this unfortunate occurrence. When they are ill and away from work, it is extremely unlikely that they will be getting the appropriate rest and recuperation that holiday leave is intended to provide.
Every time there is a change in employment law which has financial implications for employers it is always met with plenty of moans and groans. The introduction of the National Minimum Wage is a prime example. However, over a relatively short period of time, circumstances settle and the new law works and even becomes practical. There is nothing to suggest that this amendment to holiday pay accrual during sick leave will not end up heading in exactly the same direction.