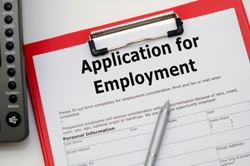 Your first question might be – what is "employability"? Employability has been defined by the Confederation of Business and Industry as "a set of attributes, skills and knowledge that all employees should possess to ensure they have the capability of being effective in the workplace – to the benefit of themselves, their employer and the wider economy."  Put in simple terms, employability boils down to the knowledge, personal qualities, attitudes and behaviours you need to get a job, stay in that job and be successful in your work.
So how do you show you have employability skills needed for a legal career? Well, the first thing to consider is that there are many transferable skills that you may already have from previous training and experience. What you need to be able to do is combine these skills, knowledge and personal qualities with those you have developed while studying ILSPA's Legal Secretaries Diploma. Look at the following list of 10 key skills identified as most desired by employers:   
•    Spoken communication – Able to express ideas clearly and confidently in speech
•    Teamwork – Work confidently within a group
•    Commercial awareness – Understand the commercial realities affecting the organisation
•    Analysing and investigating skills – Gather information systematically to establish facts and principles; able to problem solve
•    Initiative/self-motivation – Able to act on initiative, identify opportunities and be pro-active in putting forward ideas and solutions
•    Drive – Determined to get things done, make things happen and is constantly looking for better ways of doing things
•    Written communications – Able to express oneself clearly in writing
•    Planning and organising – Able to plan activities and carry them through effectively
•    Flexibility – Adapt successfully to changing situations and environments
•    Time management – Able to manage time effectively, prioritise tasks and meet deadlines
Which of these skills do you already have? Can you give examples of when you have demonstrated these skills? Next time you apply for a job, consider what skills are likely to be most sought by a potential employer. It might be the case that in the job specification, the potential employer has identified what key skills they are looking for. 
Skill exercise – Try using the table below to identify those skills you feel you have and give an example of how you can demonstrate this to an employer.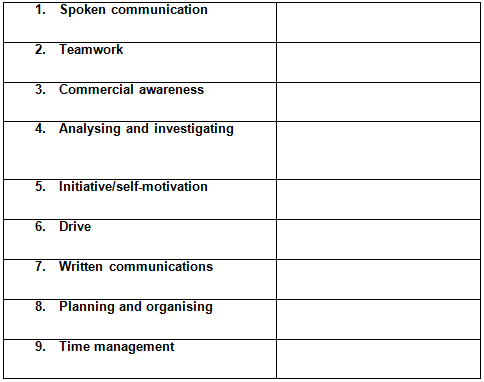 You may feel a bit daunted by the number of transferable skills sought by employers, but consider using some of the following "impact" words to help jog your memory and give your examples extra emphasis. 
•    Personal impact/confidence – Presents a strong, professional, positive image to others which inspires confidence and commands respect.
•    Lifelong learning – Continues to learn throughout life. Develops the competencies needed for current and future roles.
•    Stress tolerance – Maintains effective performance under pressure.
•    Integrity – Adheres to standards and procedures and maintains confidentiality.
•    Independence – Accepts responsibility for views and actions and able to work under own direction and initiative.
•    Professionalism – Pays attention to the quality of work; supports and empowers others.
•    Action planning – Able to decide what steps are needed to achieve particular goals and then implements them.
•    Decision making – Able to determine the best course of action; evaluates options based on logic and facts and present solutions.
•    Dependable –  Will do the job and do it well.
•    Hardworking – Takes care with work and perseveres to complete tasks. 
•    Pro-active – Makes things happen instead of waiting to be told what to do (can show initiative).
•    Co-operative –  Works well with others to get jobs done. 
•    Enthusiastic – Shows real and genuine interest in a job. 
•    Punctual – Always on time and has things ready on time. 
•    Integrity – Acts in an open and honest manner. People can trust in you and in your work.
Below is an example of how you could demonstrate that you have developed your analytical and investigative skills (problem solving) by completing the Diploma course.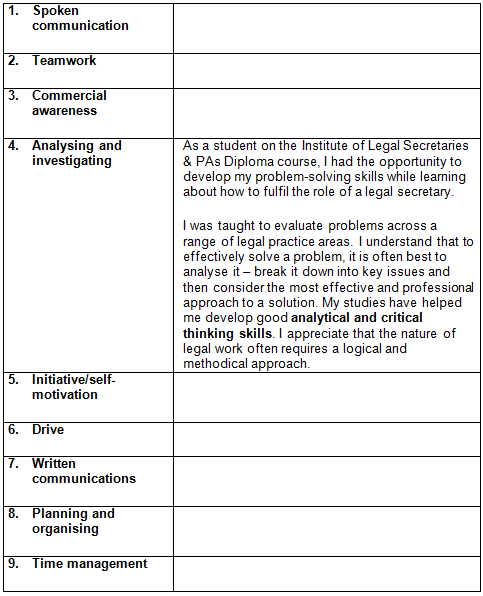 If you want to emphasise that you have drive, you need to explain that you are determined to get things done; you make things happen and look for better ways of doing things. Can you answer the question of when you faced a challenging situation or made a significant achievement? This does not have to be something you did in a professional context; it could be a sporting or learning achievement. 
Ongoing training 
Lifelong learning can be an employable skill in itself. A willingness to build on existing skills and develop new ones shows enthusiasm and motivation. With all the skills outlined above, you do not necessarily have to demonstrate all of them, but if you do feel you are particularly strong in several of them, be ready to provide convincing evidence and examples.  
If you can demonstrate a good range of employability skills, it means you can show that you can add value to an organisation. Obviously, legal employers may have a particular interest in employees who can show high standards of written communication, planning and organising, or time management, but this will vary depending on the area of practice you go into and the type of role you take on. Most importantly try to take a 'can-do' approach. Be ready to take part and foster the drive to make things happen and you will always be employable.
Please email ILSPA at cv@institutelegalsecretaries.com if you would like help with your CV and guidance to secure employment.  We will can provide you with all the advice you need to reach the interview stage.