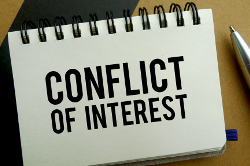 As you embark on your career within the legal industry as a Legal Secretary or PA, you will very soon realise just how tight-knit this community really is and how easy it can be for a "conflict of interest" to arise. This is especially the case within barrister chambers when you consider the fact that there aren't actually that many such firms providing this type of service in some parts of the country.
Indeed, even in London, conflicts of interest can and do arise within legal firms where representatives may well be advising parties on both sides of a legal case. This was certainly the case in W Ltd v M SDN BHD [2016] EWHC 422, where the sole arbitrator in an international tribunal was accused of bias by the other side as a consequence of a conflict of interest. The claimant in this case maintained that there were "serious irregularities" as provided for under s.68(2) of the Arbitration Act 1996. This provision states that a serious irregularity may come about which the court considers has caused or will cause substantial injustice to the applicant.
In addition to the above legislation, common law has also helped to define the rules regarding conflicts of interest in a tribunal in more detail. For example, there is a test from the case of Porter v Magill [2002] AC 357 at [103] that asks if "a fair-minded and informed observer, having considered the facts, would conclude that there was a real possibility that the tribunal was biased".
The above case (W Ltd v M SDN BHD) was also protected under paragraph 1.4 of the Non-Waivable Red List within the 2014 International Bar Association Guidelines on Conflicts of Interest in International Arbitration. Paragraph 1.4 provides that an arbitrator(s) should not act where: "The arbitrator or his or her firm regularly advises the party, or an affiliate of the party, and the arbitrator or his or her firm derives significant financial income therefrom." The arbitrator's actions fell within this IBA provision and were relied upon by the claimant in this case. It is interesting to note, at this stage, that these guidelines will remain in place even if an arbitrator secures the agreement of both parties in a case and effectively attempts to indemnify him- or herself against any such future action.
So, as you can see by way of the case above, conflicts of interest can lead to serious bias and irregularities where a legal firm may have interests resting on both sides of a legal dispute. Such conflicts should be avoided at all costs and with absolutely all types of legal cases, not just tribunal cases as discussed above.
If and when you eventually join a legal firm, you will immediately be introduced to the firm's specific system for attempting to identify whether or not a conflict of interest exists. Often, such systems can still prove to be tedious and laborious when you are using them, and some systems will definitely work better than others; however, in the long run, it will be imperative to ensure you follow this system as carefully as possible, as costly litigation may very well be the result otherwise.