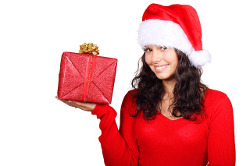 It's not what you want to hear at this point in the festive season: somebody asking you to give another Christmas present. You may already feel that you've got quite enough on your hands with the presents for your family and your friends, and on top of that being the secret Santa to Darren, the man of mystery in the IT department. But this is a Christmas present with a difference: it will cost you nothing in money and very little in time, and it is a present that you give to yourself.
Christmas can be a time of frenetic activity at work and at home, and there's not a lot of time for reflection. All the same, it's worth making time to look back at how you think you've performed over the year and give yourself credit where it's due. After the flurry of Christmas, we normally progress straight to New Year's resolutions, and then we tend to focus on the negatives: on "doing better" in areas where we think we failed or fell down last year. But before you get to those resolutions, it can also be a good idea to think about what you did well.
This exercise can be done within the time it would normally take to have a tea or coffee break. Give yourself a quiet 15 minutes away from the general buzz of the office and ask yourself: what am I most proud of achieving in my job this year? What tasks do I believe that I did particularly well? What did I most enjoy?
The answers to these questions can give you valuable pointers towards career satisfaction in the future. We all tend to become quite defensive about our performance, particularly at reviews and appraisal time, but also generally, and we can get bogged down in thinking primarily about the tasks we could have done better. It's in the nature of performance reviews that employers concentrate more on the negative than on the positive. Obviously, it's important to look at performance critically, and clearly everyone has to be able to handle the core competencies well, but you can often learn much more about what really drives you by looking at the tasks you can congratulate yourself on. This is something that appraisals will not usually tell you: it is something you have to discover for yourself, and that is where this exercise comes in. 
Were you given responsibility for co-ordinating a task over several departments? That may well have given you valuable experience using your people and work management skills. Did you expand or extend your IT training so that you were able to help other staff members? An aptitude for IT is one of the most important attributes you can have in today's job market. Did you gain experience organising travel, firm-wide meetings, conferences or social events? Again, travel and event management is an area of specialism on which you can expand, particularly if you are interested in using your foreign-language skills. Were you involved in some of the firm's marketing tasks over the year, such as contributing to social media? Knowledge of marketing, particularly in the new media, is one of the most sought-after talents in the legal market right now.
If you can look back on a distinctive assignment in the past year that you think you did well and – just as importantly – that you also enjoyed, you may just have found an important pointer towards your future. This new experience may be something you can build on in the coming year by taking on further training, either supported by your firm or on your own initiative. You can volunteer to take on more tasks in your area of interest next year. You will also have gained confidence in expanding the range of the work that you do, and you will have added another accomplishment to the skills portfolio you offer to your current (and future) employer. These are all good points to keep in mind for your next appraisal, especially if you think that some extra training might help.
The job market for legal secretaries has become increasingly competitive in the past five years or so, and the indications for the foreseeable future are that this will not change. Technology is now continuously transforming the legal secretary/PA role, and it is essential to offer extra skills and to take advantage of any opportunities your firm gives you to expand your CV.
Just as importantly, looking back over the tasks that you did well over the year helps increase your job satisfaction and is a reminder of the reasons why you chose to be a legal secretary in the first place. Use this gift-giving season to give yourself at least a modest pat on the back. Next year will bring new experiences and new challenges: go forward to meet them with optimism and confidence. And in the meantime, have a great Christmas.