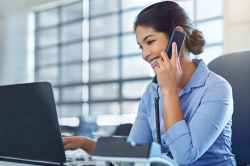 Whether you are currently studying with ILSPA, or are considering taking one of our courses, we would like to draw your attention to the help and support available to our students.
Many of our students will study via distance learning, and it can be a common misconception that this means that you will be expected to carry out your studies independently. We would like to reassure you that this is not the case and that whichever method of study you choose, you still have the full support of the institute.
We understand that law can be a tricky subject to navigate, especially if you have not studied it before. It is completely normal that a subject such as this will raise a number of questions as you read through the course material and that you may often feel challenged when completing your coursework.
Students can often put off asking for help, assuming that they may appear incapable or feel that they should be able to find the answers themselves. At these moments, it is important to remember that you are studying the course in order to learn, and that you are not expected to understand everything already.
We will always encourage our students to contact us with any queries, no matter how seemingly small, so that we can help them achieve success in their studies and careers.
Whom can I contact?
Course Assessor
Should you have a query regarding the course material, or a question to do with your practical assessments, our Course Assessor, Maria Richards, can be contacted at maria@institutelegalsecretaries.com. Maria has worked for the institute for 10 years and knows the course material inside out. Remember that you can also request a call back from her, should you wish to have something explained in more depth.
Head Office
If you have any general questions about the course, you can call our Head Office on 0207 100 9210 where one of our members of staff will be happy to help you with your query.
Tutor
If you are an evening class student, you will be provided with a contact email for your tutor. They are also there to help with any queries you may have.