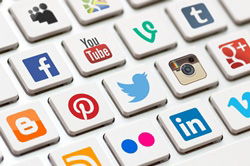 Do you consider yourself to be a bit of a social media whizz? Loads of Twitter followers, constantly posting on Instagram, reaching out on Facebook? Have you considered that this skill might be something that can advance your career?
Last month we looked at the learning opportunities that are out there which can help you extend your CV and get promotion. One of these is developing a talent for social media, which is increasingly important for law firms, but which not all law firms are confident about. 
Law firms these days rely more and more on non-lawyer members of staff to drive the business forward. Schillings, for example, a London firm widely regarded as extremely progressive and adventurous, has announced that by the end of 2017, half of the firm's fee-earners will be non-lawyers. Part of this kind of thinking, which is becoming much more widespread, is putting the firm out into the market via its PR and advertising. That of course includes posts on Twitter, Instagram photographs and YouTube videos, among other things. 
If this is an extension of your work that might interest you, it's worth investigating it, as it is seen as essential for law firms to have a social media strategy these days.
Lots of courses are available on social media, and if this is an area in which you would like to develop, it's probably worth researching them and going on the one that you think suits you best. Your firm may offer to pay for the course, but if you have to pay for it yourself, it's well worth the investment as you are likely to boost your earning power. As well as doing "practice runs" on media campaigns on such courses, you will also get certification for your CV, which shows future employers that you have sought-after skills. 
If you work for a large firm, tweeting and LinkedIn posting might already be done by an outsourced PR firm, but you can still make contact with them and ask about opportunities. It may well be worth making some "pitches", suggesting some topics that they might consider tweeting about. You can also discuss this with your boss and find out what s/he is doing that's tweetable, which would be very impressive.
Check to see whether there is a protocol in your firm to suggest subjects for social media, and get guidance from management. My experience is that PR firms are often very keen to receive suggestions of possible tweets to keep posting regularly for your firm – they are often desperate for material. If the PR firm takes up any of your suggestions, learn from the ones that it has chosen and the ones it's rejected, and keep refining your skills. 
If you are in a firm where your boss or department doesn't use a PR company, why not suggest opening a modest Twitter or LinkedIn account on behalf of them? You will probably find that your firm will want to approve any suggested posts, but that's a safeguard for you as well as the firm, and helps you to build knowledge of what is and what is not acceptable. 
If there is an overall marketing and PR strategy for the firm, it is always important to run ideas past management or the PR company, but look on this as a positive rather than a negative. Every time you do this, you are making stronger connections in the part of the legal business that you want to move to. If you want to move into legal PR full-time, you may well hear about possible opportunities through these people before they are generally known about.
Your understanding of the legal business through your secretarial work, combined with your flair for social media, can open up a whole new area of work for you. And if it does – tweet to us about it!