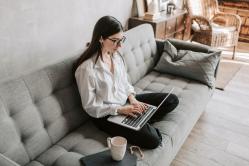 The last couple of months spent in lockdown have affected many lives in the legal industry, with staff now working from home, working reduced hours or being furloughed.
Jobs have been more scarce because many employers can't justify bringing on new staff in these times of uncertainty, so for those who want to remain working in the legal industry, it's been more challenging to find a new job.
Now that the lockdown has eased, however, Simply Law Jobs are seeing efforts in recruitment ramp up again – last week, there was a 39% increase in jobs advertised. So, if you've been considering updating your CV, or rewriting your cover letter, now is a good time to do it.
We want to encourage you not to give up hope. Our partner, Simply Law Jobs, has set out a few tips to help you with your job search. They have also included options for jobs that are not based in the legal industry, if you are looking for a change for the short term.
Upgrade your CV