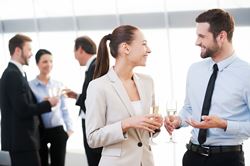 Personal relations and the connections that you make can define your career: they can help you secure roles in particular firms; effect who you end up working alongside; they can even help you win or lose your firm clients. Whether you enjoy it or not, law demands that you network.
Networking is really a skill in itself, and it is one that those wishing to enter the legal profession at any level would do well to master. It is normal to be worried about what to talk about in front of other professionals at first, but it's easy to become a networking pro with a little bit of preparation and practice. Simply Law Jobs have set out this simple guide to help you ease into networking and fine tune these essential skills. 
1. What's it all about?