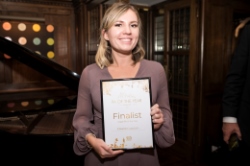 On November 7th, the UK's most talented PAs, EAs and Office Managers gathered at London's Ivy restaurant for the PA of the Year Awards 2019.
Event host SecsintheCity caught up with Legal PA of the Year finalist Eleanor Lawson to find out more about her role at DWF Law LLP, her experience of the Awards and her advice to aspiring Legal PAs.
How did you become a Legal PA?
After finishing my A-levels, I decided I didn't want to go to university, so I applied for a job as an Apprentice Business Administrator at DWF Law LLP. After completing my apprenticeship, a vacancy for a Personal Assistant became available in my team – Corporate – and I was offered the role and promoted.
What do you love about being a Legal PA?