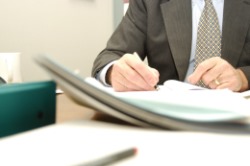 On occasion, a solicitor's firm may find itself in dispute with its own client. This can happen, say, in a case where there is a disagreement over the legal bill or when a client wishes to change advisors. In these types of situations, a firm may find a client demanding that "their" file be released but the firm is reluctant to do so immediately (particularly where a legal bill is in dispute). In cases such as these it may be necessary to consider who owns the file, what the contract between the parties says, and what personal data a client may be entitled to.
Ownership – When a solicitor acts in a case, the documents which are created fall into two categories:  
a) Those where the solicitor is acting as a professional advisor; and
b) Those where the solicitor is acting as an agent.