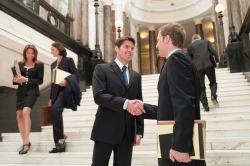 As the cost of the services of a talented Solicitor or Barrister skyrockets, and a reduction in legal aid continues, fewer consumers are finding that they can afford costly legal services. They are searching for an alternative.
Paralegals are emerging as that alternative, but the profession still remains an unknown quantity to all but the professional Paralegals themselves, particularly in the eyes of qualified lawyers, who believe Paralegals are simply "would-be Solicitors".
Many individuals are qualifying as Paralegals independently. Without a shadow of a doubt, Paralegals will play a key role in the future of legal services – especially in assisting consumers with everyday matters at an affordable cost. They will sit alongside Solicitors and Barristers within the legal sector – filling a gap and need that is currently being underserved. Paralegals are already an important if not visible profession within the legal services industry. Solicitors and Barristers also have the opportunity to recognise what this addition brings them and the sector as a whole, and to embrace Paralegals as one of the ways consumers can have access to legal advice and support.