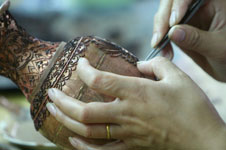 When you think of serious negligence cases, you might consider road traffic accidents, accidents at work or careless professional advice. What would not necessarily come to mind would be someone tripping on his or her shoelaces and causing a spectacular amount of damage.
Nick Flynn, who admitted to having a "Norman Wisdom moment", managed to bump into three 17th century vases, reducing them to a jumble of broken porcelain. The accident occurred at the Fitzwilliam Museum in Cambridge. The antique vases were from the Qing dynasty, and the largest of the three was 32 inches tall and weighed nearly 100 pounds. With an estimated value of between £200,000 and £300,000, this was a serious incident by anyone's standards.
Mr Flynn was first banned from the museum and then arrested on suspicion of causing criminal damages. He was later released without charge, having convinced the police that the incident was a genuine accident. Mr Flynn was said to appear unrepentant and perhaps he felt he had gotten off "scot-free". Although he escaped criminal prosecution, he could still be pursued by the museum in the civil courts for damages.