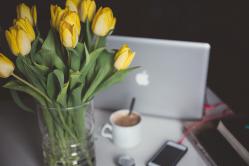 Take a look around your workspace. Is it organised or a disaster area? Can you quickly and easily find things? Are there any items that are just taking up space?
In honour of National Clean Off Your Desk Day, it's a great time to take a critical look at your workspace. Follow these three steps to make it a more productive area!
1. Create workspace zones. There are three zones you need to think about as you clear the clutter and put systems in place for staying organised. The three zones are:
Zone 1: Prime Workspace. Zone 1 is the main workspace at your desk – the centre of activity that is within arm's reach of your computer and phone.