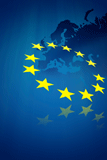 We've been hearing about an official constitution for Europe for many years now. In fact, at one time Tony Blair promised the country a referendum on it when he was Prime Minister back in 2004; but when both France and the Netherlands voted against it, the national vote was cancelled.
Ever since then, the Labour Government has not made any renewed efforts to allow the country to vote on an issue that is potentially more important to the UK than most other EU states. It all boils down to the fact that the UK does not have an official written constitution at present. If and when the Lisbon Treaty does come into force, this will mean yet another element to add to the already confusing constitution of this country.
What Will the Lisbon Treaty Mean?