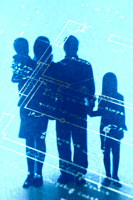 It is one of the unfortunate facts of life that when a deep recession strikes our economy, there are always going to be unfortunate homeowners who lose their abodes through the distressing process known as repossession. The current recession has not proven to be any different and indeed the figures that recently have been announced for repossessions last year have been even more shocking than previously anticipated.
During 2009 there were 46,000 repossessions across the country and what is even more worrying, this figure is predicted to rise to a shocking and unforgivable 53,000 during 2010. Last year's figure was the highest recorded in fourteen years and there are many organisations calling for action by the Government to try and reduce this number.
One such organisation is Shelter. This charity was conceived as an attempt to tackle homelessness and members are now stressing the fact that no political party seems to be even slightly inclined to set out exactly what it intends to do to help the unfortunate victims of repossession when the next government is established later on this year.
It is important to contemplate the fact that each of the 46,000 cases of repossession this year represents an individual or family who would have been to hell and back in an attempt to keep hold of their home. Shelter has outlined the fact that this high number of repossessions could have been reduced considerably if every one of these individuals had sought legal advice as soon as they fell into arrears with their mortgage payments. Alas, this is far from being the case, with the majority of mortgage defaulters really not knowing the details of housing law nor of what help may be available to them at such a time.
For those people who had turned to Shelter when they were at risk of losing their home, 77 per cent of cases did not result in the immediate loss of their home. This is an impressive statistic and testimony to the fact that there are avenues open to mortgage defaulters at such a time.
First and foremost there is an official process to which the mortgage lender must adhere in order to legally evict an owner occupier. Of course, for the most part, mortgage lenders will follow this by the book, however, there are some lenders that are well known to be overzealous when it comes to repossession proceedings and owner occupiers should seek legal assistance as soon as the threatening letters start to arrive.
In many cases the courts really will do what they can to take the side of the owner occupier. When such defendants have done all that they can to prevent this situation from arising and where it has occurred through no fault of their own, the judge will always act as leniently as possible. The judge does have to follow the law in this regard, however, and often the lender will gain possession of the property. When this does happen, owner occupiers need to realise that they are fully entitled to sell the property themselves. It is never wise to let the mortgage lender do this. Although it is set in law that the lenders should make every effort to secure the best price, they rarely do, and as a consequence, owner occupiers are often left with a bill to pay the difference between what they owe on the mortgage and what was achieved at the sale. Judges are obliged to grant owner occupiers a sufficient and reasonable amount of time in order to achieve a sale themselves. Be this three months or one year, the current factors of the housing market should be taken into consideration. If the owner occupier were to take control of the sale of the property, at least that person could rest assured that the very best price had been secured.
If only all homeowners were to approach a legal representative as soon as they fell into arrears with their mortgage, the shocking figure of repossessions should not be around the unacceptable 50,000-plus mark. Moreover, if the current and next governments were to set out clear policies on how to assist struggling mortgage payers financially, this figure could be reduced further. The current Government allows the same institutions that got this economy into its current state to get away with absolute murder and this lack of backbone is something that the average Joe is forced to carry the can for!